Back to the main page / Aparements in Minsk for daily rent. Detailed information
1-room luxury flat for daily rent in Minsk (Zaslavskaya str., 12). From $40 per twenty-four hours. Beds: 2+1,5.



A comfy downtown apartment not far from Nemiga and Troitskoye Predmestye (Trunity Suburb). Modern decoration, lovely interior, appliances included.

1-room apartment, price from $40 per 24h (short-term). Beds: 2+1,5.

Our contact phone: (+375 29) 652 00 51.

This flat is just near the Frunzenskaya metro station, near the Nemiga street filled with luxurious casinos, restaurants, banks and boutiques. Spend the most memorable days of your stay in this cozy place. Everything a modern citizen is used to is right at your disposal, and on top of that, there's the gorgeous view on the downtown from the 5th floor where the apartment is located.

This is a perfect place for city walks and meeting with friends, with the abundance of restaurants, coffee spots, clubs and boutiques around. Unlike a hotel room, the apartment features a kitchen with a fridge and cooker, equipped with all the modern appliances and homely-looking dishes. A dinner cooked here can easily become a background for a long warm talk, just like at home.

The spacious room is decorated using light colors, furnished with stylish and nice-looking items, creating an appealing atmosphere of comfort and coziness.

This apartment is perfect for a company or a family up to three people. Its special advantage is the proximity of the BelExpo show complex for those interested in trade shows and fairs. It will take you only 10 minutes by bus or 3 by car to reach the venue. Just leave the apartment, and you are in the heart of urban life. The sites of the Old Town and the modern part, walks across the Troitskoye Predmestye (Trinity suburb) and along the Svislotch river will be an exciting experience.



Washing machine
Bathtub
Fridge
Cooker
Microwave
Teakettle
Iron
Cable TV
DVD
Intercom
Bed linen and towels
Tea, coffee, sugar
Shampoo, shower gel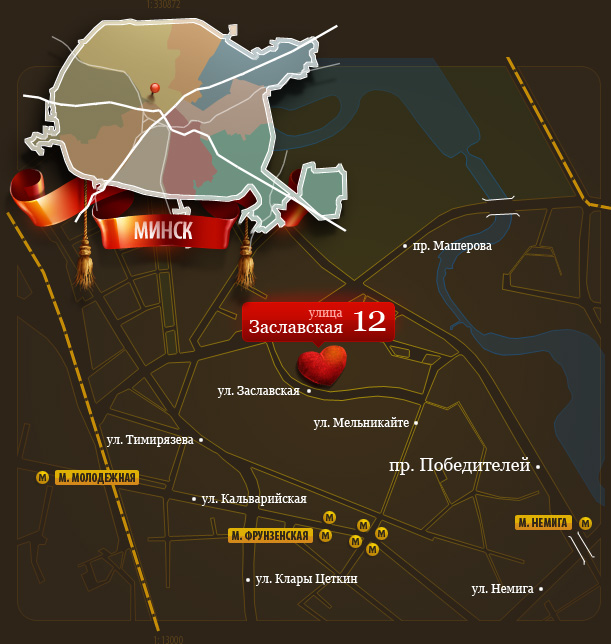 Location on the interactive map of Minsk, Belarus
1-room luxury flat for daily rent in Minsk (Zaslavskaya str., 12)





Landlord
Elena Dubravinshaya
State registration certificate 191413934 issued by Mingorispolkom, May 24th, 2010. Has over 10 years of experience in real estate. Every client enjoys personal attention as well as fast and reliable assistance.
Contact phone (A1 / velcom): +375 29
652-00-51
Contact phone (MTS): +375 33
652-00-51
Viber, WhatsApp
+375 29
652-00-51
info@minskrent.by